6.15pm Collect lanterns from Ordsall Community Arts
6.30pm Parade leaves OCA on route to Ordsall Park
7.15pm Fireworks from Walk the Plank on Ordsall Park

The word on the street so far......
Inspired by the many buildings and venues in Ordsall, places we all use every day, this years celebration features the very streets we live on. We're creating some of Ordsall's most famous and not so famous landmarks. Visitors from far and wide come to see very famous buildings like Salford Lads Club and Ordsall Museum, but its also places like Lindsays shop and the churches and school buildings where lots of community life happens everyday.. So this year we'll be celebrating these unsung heroes in our community.
As usual, we'll be bringing this local story to life by talking to local people and sampling some of their memories as well as weaving some new tales of our own for our lantern installation at the end of the parade. We hope you enjoy it as much as we do making it! So come and join us on Friday 10th November, starting at the Library, and walking many of Ordsall's loved streets, arriving in Ordsall Park for the lantern installation and firework show from the firey magicians at Walk the Plank.
Make a donation
If you would like to make a contribution to this very special event, please click on the link to our Just Giving page below- you know every penny counts! Thank you!!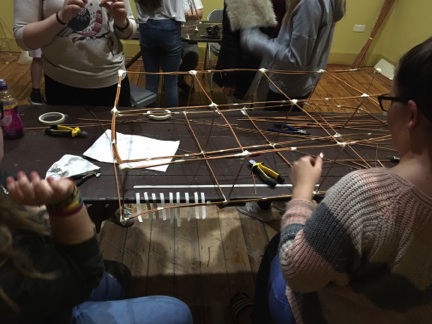 Making lanterns with Salford Girls Club

Lighting the Legend 2017
Friday 10th November
Lighting the Legend 2017 JUST GIVING page